SILVER SURF™ Vesitiivis, pestävä näppäimistö
SILVER SURF™ näppäimistössä on kannettavasta tietokoneesta lainattu matala näppäinprofiili ja ohjelmoitavat näppäimet. Saatavana langallinen ja 2.4 GHz langaton versio sekä SEAL PAD™ tasohiirellä (Touch Pad) ja integroidulla kortinlukijalla varustetut mallit. Seal Shield näppäimistöjen tapaan täyttää Silver Surf IP68 luokan vatimukset - myös veden alla.
100% Waterproof/Dishwasher Safe/Antimicrobial
The NEW Seal Shield™ Silver Surf™ product line is ideal for the office or the family. Not only does it offer strong ergonomic design features, but it most importantly washable. Regardless whether you spill coffee on the keyboard at work, or kids cover the TV remote with chocolate, you can wash these keyboards and mice thoroughly and have them ready to go in a few minutes. Kids don't always wash their hands, so you need a keyboard that can be washed frequently.
Any of our SILVER products include our exclusive SILVER SEAL™ protection. SILVER SEAL™ protection has been shown to safely inhibit microbial growth and reduce the spread of odor causing bacteria.
The Seal Shield™ keyboard, mouse and remotes with Silver Seal™ protection have the Good Housekeeping Seal of Approval by the featured Research Institute.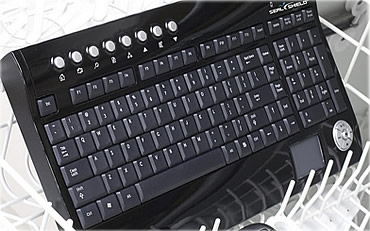 Näppäimistö astinpesukoneeseen - uusi ajatus, mutta puhdasta tulee ...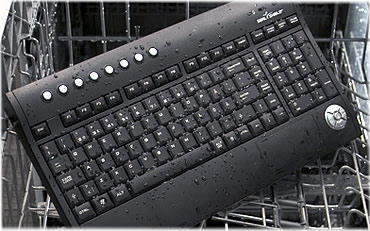 Silver Surf™ näppäimistö langallisena, langattomana / pad-hiirellä / kortinlukijalla